Find Your Next Big Client
at AWAI's 2017 Job Fair
Check out this year's growing list
of Job Fair participants!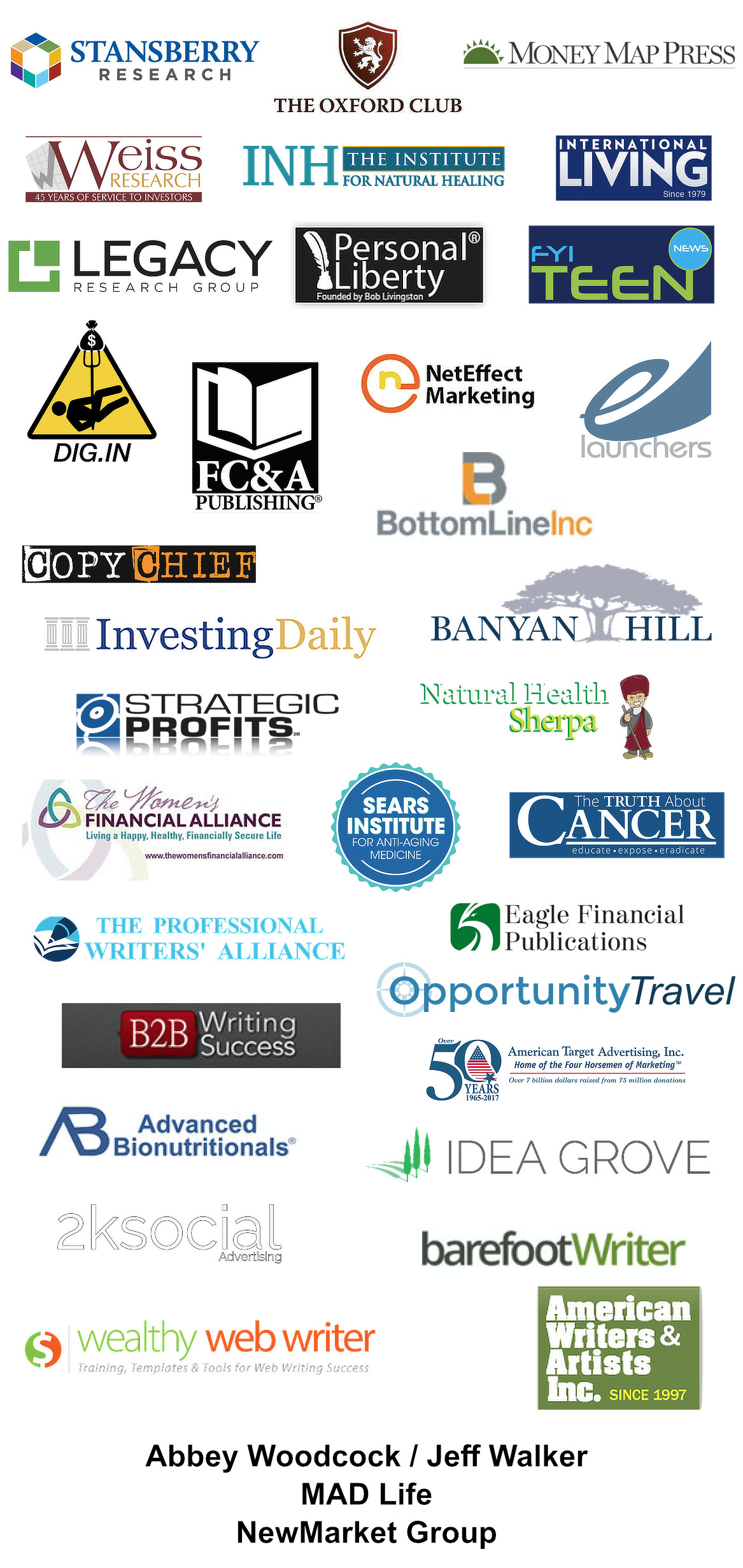 Make Your Connection at Job Fair!
Your Bootcamp registration is your ticket to the Job Fair where you'll meet marketers looking for fresh talent to fill their copywriting needs. There's no easier way to get in front of prospects who are actively hiring copywriters. Imagine, having a chance to talk face-to-face with marketers from companies like Boardroom, Newsmax Health, Opportunity Travel, Palm Beach Letter, Strategic Profits, and many more! Here's what your fellow copywriters have to say about Job Fair:
"Three months after I went to my first Bootcamp, I had enough clients to leave my full-time job."
– Roy Furr
"Clients I gained from submitting my first Bootcamp spec assignments 2 ½ years ago are still my clients today, earning me over six figures a year."
– Susan Nickerson
"I completed a Spec Assignment from Job Fair 2014 to land a project with my all-time dream client and direct-mail giant, Boardroom, Inc. I got to work with A-list copywriters Marcella Allison and Richard Armstrong. It was a life- and career-changing experience that I'd dreamed about for years … and it's all thanks to Job Fair!"
– Rae Robinson
"Winning the Clayton Makepeace Bootcamp Challenge has been the highlight of my copywriting career. In addition to being one of the world's best copywriters, Clayton is an incredibly nice guy. Working with him has not only improved my copywriting skills but also taught me about the process used by financial publishing companies to create copy. I have the confidence now to approach any financial publishing firm, and I intend to leverage this experience to the max!"
– Chris Allsop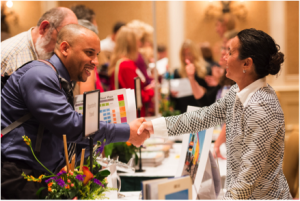 As a Bootcamp attendee, you'll have an opportunity to meet with marketers from a variety of companies, and to participate in spec assignments from AWAI and from other Job Fair marketers. It's a no-risk way to show off your writing skills and have the chance to land a new client! You'll also get access to a Pre-Bootcamp webinar where you'll get tips on how to impress the marketers so you have a better chance of getting hired. Job Fair is set up as a networking reception where you can talk directly to marketers, and mingle with your friends, old and new. It's one of the best networking events anywhere for new and experienced copywriters. Maybe you'll be like James Turner who wrote to us after Job Fair to say…
"Just 8 months ago, I attended my first AWAI FastTrack to Copywriting Success Bootcamp and Job Fair … and since then I've attracted enough business to make at least a 5,754% return on my Bootcamp investment by the end of this year. On top of that, I've been able to "retire" from my day job and become an in-demand copywriter … 5 months ahead of schedule!"
There's no easier way to jumpstart your copywriting career than at the FastTrack to Copywriting Success Bootcamp and Job Fair. We look forward to seeing you there!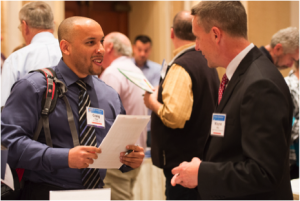 Once you are registered, you'll have full access to the Bootcamp event page, where you'll get details on the spec assignments or writing opportunities being offered by the marketers at this year's Job Fair. Plus, you'll find two bonus reports to help you – both at the Job Fair and after:
A Brief Introduction to Spec Assignments
How to Beat the Blank Page Blues
"Without a doubt, Bootcamp was the key to launching my writing career. I arrived in Delray Beach unsure if I could really be a copywriter. But the contacts I made through Job Fair, and my conversations with so many great speakers and attendees helped me land the job I wanted with an Agora subsidiary."
– Ed G.
"AWAI's Bootcamp and Job Fair was one of the most valuable events I've ever attended, well worth the time and expense The Job Fair in particular — with its wealth of spec assignments — make this 20-year marketing professional tear up in gratitude."
– Amy R.
AWAI Spec Challenges:
Earn Back Your Registration
"It was great to finally see for myself exactly why these Bootcamps are so successful. The obvious thought that went into it, the attention to detail, the enthusiasm, and the genuine caring about the participants' experience were all extraordinary.
"I can't recall that I've ever seen participants so uniformly satisfied — and enthused."
I wish I had had something like this when I was starting out. Just the job fair alone would have been well worth the price of admission — to be able to go into a huge room filled with eager-to-hire representatives from major mailers. Wow."
– David Deutsch, A-level copywriter for Boardroom and many others and 2012 Job Fair exhibitor
"Nightingale Conant picked my spec from Bootcamp 2011! "They've given me a great assignment marketing a bundle of Dr. Wayne Dyer's products.
I'm beyond elated about this. I think I have a few niches — but this one is probably my strongest. Some thirty years ago when I was dating my husband to be — he used to bring me quotes and books from Dr. Dyer. (Yes, he wooed me with them.) Over the decades, I have devoured his work. (That is the Law of Attraction working overtime and through the years!) Thank you for Bootcamp!"
- Maria Jacketti
"The ability to write good copy is a skill and an art, and in order for us as a company to keep growing in tough economic times it's even more important than usual that we keep engaging top notch talent that can really relate to our target market. AWAI is the best place we've found to discover that talent."
– Liz Thompson, Co Founder, Healthy Wealthy-n-Wise Magazine
"We have funded projects to several attendees from the Job Fair and are working with many of them on a long term basis. I just wanted to let you know that we are extremely happy with the talented copywriters we met and that have submitted specs."
– Debbi Carroll, Biomedical Research Laboratories
"I did walk away with a paid assignment. Networking happens, whether you consciously do it or not. Let it take you where it will, because you'll be thrilled when it does. And, when you get home and the phone rings the next day with another paid assignment, you can grin, make the deal, then hang up and scream and jump for joy. Go ahead. Expect it all. It happens."
– Susan H
You're Invited to "Test Drive" the Best Professional Writers
in Direct Response Marketing at the 2017 Job Fair!
Email us at jobfair@awaionline.com or call Member Services at (561) 278-5557
or U.S. Toll Free (866) 879-2924 for more information.
Attention Registered Attendees
Once registered for this year's Bootcamp, you'll get access to your Bootcamp attendee page where you get updates as they are confirmed and full details on the spec assignments being offered by the marketers at this year's Job Fair.
AWAI's FastTrack to Copywriting Success Bootcamp and Job Fair is your best opportunity to meet – and land assignments with – some of the top marketers in the business. We have created a special report that provides you with professional tips and suggestions to make your experience of Job Fair easier and more enjoyable.
Turn Your Copywriting Dreams Into Reality In Just Three Days
Three Days of Hard Work and Networking Fun… A Lifelong Impact
American Writers & Artists Inc. 101 SE 6th Ave., Suite A Delray Beach, FL 33483 33483 (561) 278-5557 or (866) 879-2924