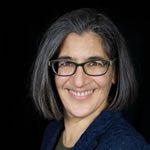 On AWAI Bootcamp:
"I can't wait to be back at Bootcamp this year! It's always such an inspiring event with the feel of a homecoming!"
Ilise Benun is an author, consultant, national speaker, and co-founder of Marketing-Mentor.com. If you've ever struggled with landing great clients, writing winning proposals, or getting your pricing right, you'll definitely want to hear what Ilise has to say! She's been self-employed for all but 3 years of her working life, and enjoys helping freelancers and creative professionals thrive when it comes to promoting their services.
Throughout her 25+ year career, Ilise has conducted workshops and given presentations for national and international trade organizations, including — the American Marketing Association, International Association of Business Leaders, American Consultants League, and the Business Marketing Association.
She has developed courses and programs on freelancing, marketing and pricing, for The Freelancers Union, CreativeLive, HOW Design University, including her latest, AWAI's Simplest Guide to Pricing Copy Projects.
She's publishes a free email newsletter, Quick Tips from Marketing Mentor, and has authored numerous books and electronic marketing tools, such as The Pick a Niche Kit, The 30-Minutes a Day Marketing Plan for Creative Professionals, The Creative Professional's Guide to Money, The Designer's Guide to Marketing and Pricing; Stop Pushing Me Around: A Workplace Guide for the Timid, Shy and Less Assertive; The Art of Self Promotion; and co-authored Public Relations for Dummies, 2nd Edition with Eric Yaverbaum and Bob Bly. Her work has been featured in national publications such as The New York Times, Inc. Magazine, The Washington Post, and more.
Turn Your Copywriting Dreams Into Reality In Just Three Days
Three Days of Hard Work and Networking Fun… A Lifelong Impact