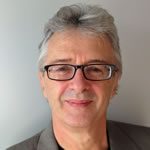 On AWAI Bootcamp:
"I'm a big fan of using the web and social media to build my freelance business. It's what I've been doing for almost 20 years now. But if I do the math – and I have – I've built more business relationships, picked up more clients, and made more money through the one-on-one contacts I have made at live events. It's always been this way for me, and it's still just as true each time I go to Bootcamp. I meet people face to face, develop new relationships and attract more work. And it's not just because I'm a speaker. I see it happening for attendees all the time. The point being, a thousand "virtual" connections will rarely deliver as much value to your business as a single face-to-face encounter with a prospective client or partner."
Nick Usborne is a master online copywriter and site optimization expert with over 30 years of experience in the marketing industry.
The first 15 years were devoted to writing direct mail, and the second 15 years have been focused on writing for the Web.
As a copywriter, consultant, and trainer, Nick has worked with hundreds of companies, including Disney, AOL, The New York Times, Yahoo!, MSN, The Getty Trust, Intuit, John Deere, Reuters, Franklin Mint, Citibank, and Encyclopedia Britannica.
He is a widely read columnist, with his articles being published by ClickZ, iMediaConnection, AListApart, Business 2.0, MarketingProfs, and many other professional sites and publications. He is also the author of the critically acclaimed book on writing for the Web, Net Words: Creating High-Impact Online Copy, published by McGraw-Hill.
At home, he is a partner, father, grandfather, kayaker, skier, and voracious reader of both fiction and non-fiction. He also has a passionate addiction for coffee and is unapproachable each morning before he has had at least two cups. Nick has authored five very popular AWAI programs: Web Copywriting 2.0: Your Complete Guide to Writing Web Copy that Converts, How to Write Your Own Money-Making Websites, Profitable Freelancing, Marketing Confidence: Learn to Love Marketing Your Business, and How to Make Money as a Social Media Marketing Expert.