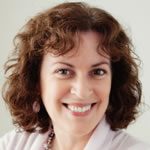 On AWAI Bootcamp:
"This will be my 14th Bootcamp attendance! I can't imagine NOT being at Bootcamp. It's the one place each year for copywriters at all levels to connect with fellow copywriters, amazing speakers, the AWAI staff, and most importantly, potential clients at the Job Fair. To me, it's one big colleague reunion where we support each other, learn the latest insights and get to hang out with others who get what we do!"
Pam Foster is a Certified SEO Copywriter, blogger, and web content consultant for multi-page sites and online promotions (emails and landing pages). She joined the AWAI team full-time in November 2015 as its Director of Copywriting Training.
Wondering what niche you should write for? You'll want to pay close attention to Pam. In 2009 she made a big splash in the pet industry by launching PetCopywriter.com, quickly becoming the "go-to" writer for many companies who sell pet- and veterinary-related products and services. In 2017, she sold PetCopywriter.com to a veterinarian who's a copywriter. Now, Pam still provides limited copywriting services to that industry so she's still in the game, working with clients, and showing you how it's done.
Pam is also the founder of ContentClear Marketing (www.ContentClear.com) and she's the author of several popular AWAI programs: How to Choose Your Writing Niche, Site Audits Made Simple, Working Effectively with Web Clients, and Essential Templates for Your Copywriting Business. She's an AWAI Circle of Success Instructor and a frequent speaker online and at live events.